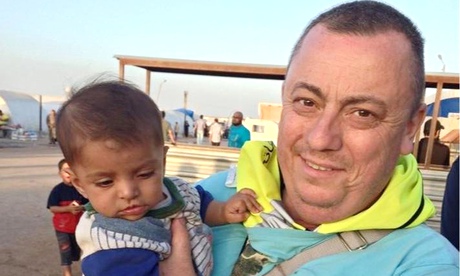 Islamic State militants have released a video depicting the murder of British aid convoy volunteer Alan Henning, three weeks after warning that he would be the next to die.
Henning is the fourth western hostage to have been killed by the group, following the filmed beheadings of US journalists James Foley and Steven Sotloff, and Scottish aid worker David Haines.
A further hostage, Hervé Gourdel, from Nice in France, was murdered by Jund al-Khalifa, a group with links to Isis, on 24 September.
The killing comes after the UK launched air strikes against Islamic State (Isis), joining the US and its Arab allies – Jordan, Saudi Arabia and the UAE – which had been targeting the group for several days.
Shortly before the Ministry of Defence announced that the RAF had attacked two Isis targets, the Foreign Office arranged for Henning's wife Barbara to make a televised appeal for his release…
READ THE FULL ARTICLE HERE.
{photo & article courtesy of theguardian.com}
{lead photo courtesy of raffaele-monti}